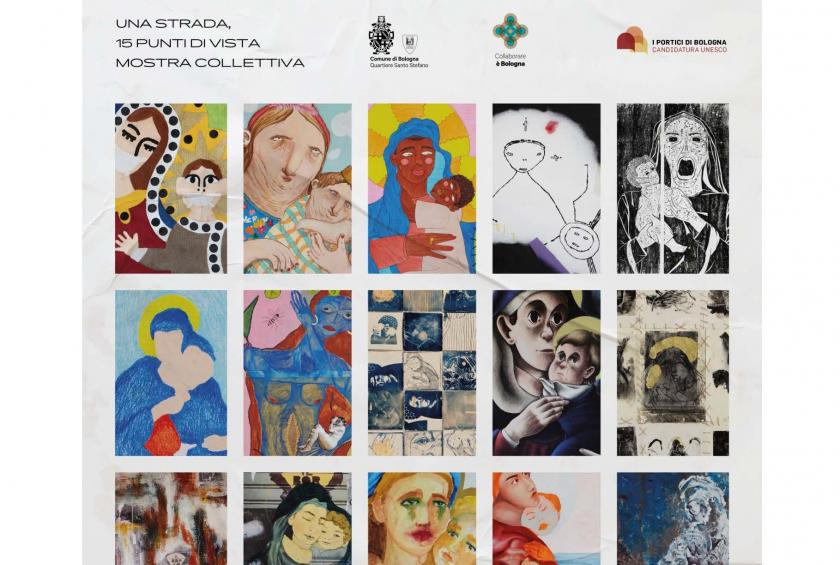 "Via del Borgo di San Pietro ... our street" is the title of the exhibition scheduled from 18th September to 4th October 2020. The event is one of the projects included in the Management Plan in support of the nomination of the Porticoes of Bologna to the World Heritage List.  
The Comitato dei Borghigiani have been taking care of this stretch of street between Via delle Moline and Via Irnerio, opposing degradation and graphic vandalism, since 2011. They asked a group of artists to interpret the figure of the Madonna, taking inspiration from the votive image which has been watching over the life of the inhabitants for centuries. The result is a collective diffuse exhibition, curated by Francesca Placanica, located in the shops of Via del Borgo. The event embodies the Comitato's concept to connect the street to its inhabitants and to open the doors of Via del Borgo to the whole city.
Save the date: Friday 18th September at 18.30 in front of the image of the Madonna, 4 Via del Borgo. On Saturday 3rd October, from 10.00 to 17.00, more events will enliven the street: readings on the history of porticoes in Bologna, a guided tour of the exhibition, flea market in support of the Comitato.