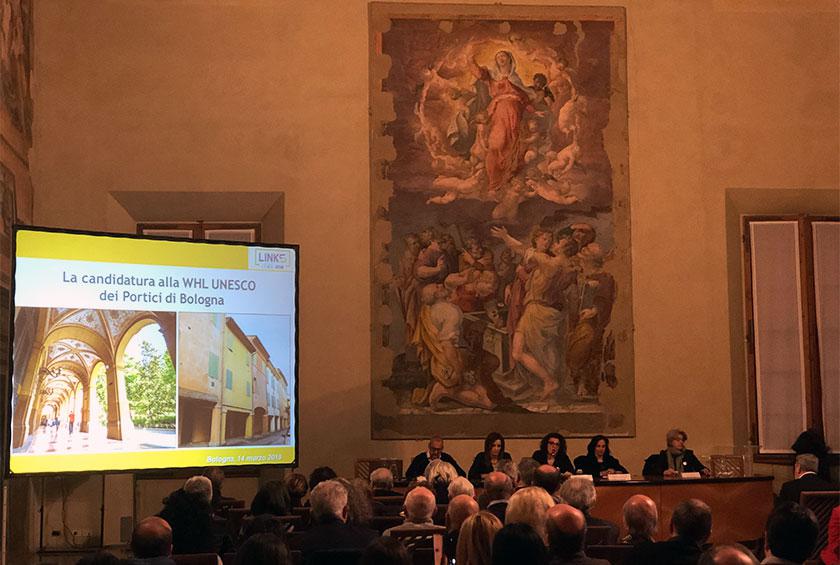 The nomination of Portici di Bologna to UNESCO World Heritage List unveiled in Cappella Farnese
The public presentation of the nomination was held on March 14th in the Farnese Chapel of Palazzo d'Accursio. The speakers were: Valentina Orioli, Assessor with responsibility for the nomination process of the porticoes to UNESCO World Heritage List, Lucia Borgonzoni, Undersecretary of State for Cultural Heritage and Activities, Francesca Riccio fromt the UNESCO Office of the Ministero per i beni e le attività culturali and Marco Valle representing LINKS Foundation which supports the Municipality of Bologna in the nomination process. The Municipality, in increasingly active contact and in close collaboration with Ministero per i beni e le attività culturali and its peripheral bodies, plans to submit the nomination dossier to UNESCO next September.
Assessor Orioli retraced the steps of the nomination, which began in 2006, whenPortici di Bologna were registered in the Tentative list, that is in the list of Italian sites with a UNESCO candidacy path formally launched. "Since then, much has been done, especially on the research front, to deepen and systematize knowledge on the theme of porticoes, in the wake of the work of professor Francesca Bocchi, which represents a fundamental reference. In fact since 1990, with the exhibition and the volume dedicated to Bologna and its porticoes, she highlighted the role of porticoes in our city and their permanence through the centuries, as a fundamental matrix of urban form but also of the way to benefit from and regulate the use of space " Orioli also stressed that "the nomination to UNESCO World Heritage List is not a bureaucratic practice undertaken by the Municipality it is the whole city's application. In order to be successful, the whole city must share it and "accompany it", along with the Ministry of Cultural Heritage and Activities ... The United Nations tell us that heritage protection is a fundamental prerequisite for ensuring international peace and prosperity of all peoples, and to promote dialogue and understanding between cultures, protect the environment and the good practices of sustainable development. ... The nomination process is a way to kindle everyone's awareness of the richness of our Heritage, of its fragility, of the daily need to take care of it. Certainly obtaining the UNESCO award can also an important form of promotion for tourism purposes, but before that the process muast be taken into account - and the process is important first of all for the city. It is a way to bring everyone closer to the now inescapable theme of the care and management of public space as a common heritage, in the historic center, and beyond. "