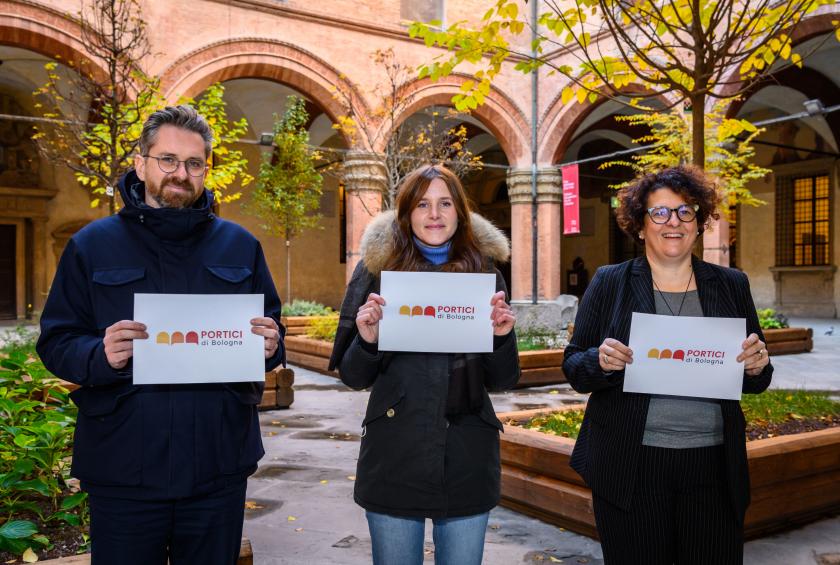 The Porticoes of Bologna, inscribed on the World Heritage List, are now represented by a new logo, designed by Jessica Bottaro and Francesco Piazza, the same young graphic designers of the visual identity which accompanied the nomination process. 
The new logo is the result of an overall revision, in response to the visual requirements for the promotion of porticoes,  summing up their meaning and purpose. The three balloon-like arches form a portico seen  from the side, in a play of positive and negative shapes. The new formal arrangement helps create a sense of dynamism and novelty.
The horizontal development of the graphic design iconically represents the inclusive nature of porticoes and the architectural continuum of the porticoed system UNESCO has acknowledged as unique and exceptional.
Moreover, the three stylized balloons convey the image of the portico as a place of exchange and interaction, which is one of the founding principles of the Nomination Dossier. The shape of the portico and the balloon of the comic strip are combined to represent the many activities and conversations that take place under the porticoes every day.
The Municipality of Bologna is the owner of all the property rights relating to the copyright of the logo, which will be registered according to the international trademark legislation. The logo may be used by third parties only with the authorization of the Municipality, for the communication and promotion of initiatives carried out by organizations and operators which obtained the patronage and / or collaboration of the municipal administration. 
Jessica Bottaro was born in Padua in 1992. She graduated from the A.Modigliani art school. Her first steps in the working world  were in the field of architecture, where she held the position of 3D cad designer. In 2015 she moved to Bologna, where she graduated in Graphic Design at the Academy of Fine Arts. She currently holds the role of art director at the innovative start-up Medhit S.r.l.
Francesco Piazza was born in Bologna in 1993 but grew up in Romagna, in Faenza. He graduated in Graphic Design at the Academy of Fine Arts in Bologna. He continued his university career in Bolzano, where he obtained a master's degree in Eco-Social Design. The South Tyrolean capital became his operational base where he currently works in a cultural association.