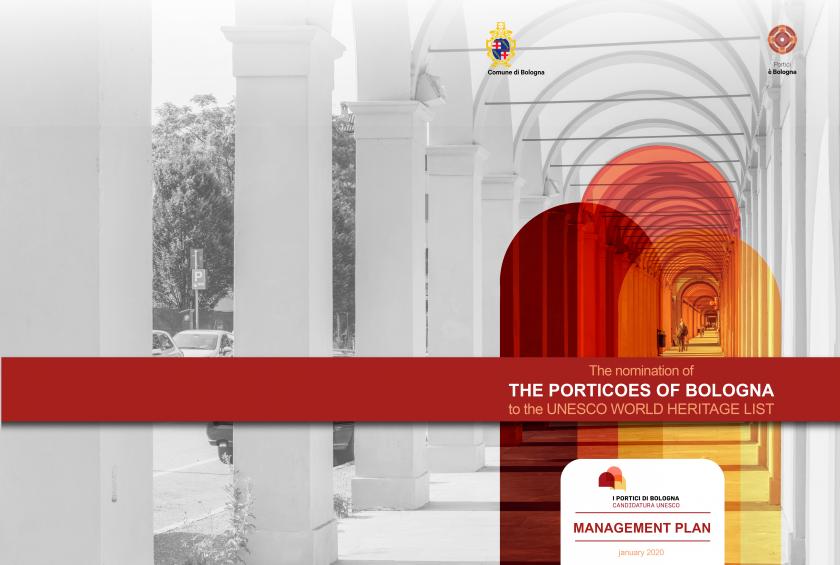 Bologna, millenary city and crossroads for exchanges, meetings and new ideas, is aware of its history, but it also looks to the future, when resilience, sustainability and innovation, fueled by active participation, will make it a reference point for the world and for future generations.
This is the vision on which the Management Plan, adopted by the City Council in the session of 13th January 2020, is based. The Management Plan is an integral part of the Nomination Dossier which will be presented on 21st January to the Italian National Commission for UNESCO. Then, in case the National Commission decides that The Porticoes of Bologna will be the Italian Nomination to the World Heritage List in 2021, the Dossier will be sent by 31st January to the UNESCO World Heritage Center in Paris. 
The definition, implementation, monitoring and updating of the Management Plan are entrusted to the Steering Committee, made up of public and private entities which are a manifestation of the whole Bolognese society and which have committed to collaborate for a common work program. In the Memorandum of Understanding signed on 18th November 2019,  the Steering Committee has indicated the Municipality of Bologna as a reference point for UNESCO for the activities envisaged in the Management Plan; thence it is so important that the City Council supports its assumptions and its contents.
According to UNESCO directives, the Management Plan must be based on the "assumption that cultural heritage and knowledge of the past, through material evidence, plays a leading role in strengthening communities, increasing individual well-being and promoting mutual understanding and peace".
Many projects have been collected in the Management Plan, proposed not only by the Municipal Administration, but also by other members of the Steering Committee, as well as by associations, schools and also by common citizens. Such a collective participation makes it clear how the whole city community is aware of the value of the Porticoes, and of the necessity to respect and protect it presently and for the future. The Management Plan estimates the available resources, human and intellectual as well as financial and instrumental ones. A time schedule, a communication and branding plan and a monitoring system are also provided by the Management Plan.